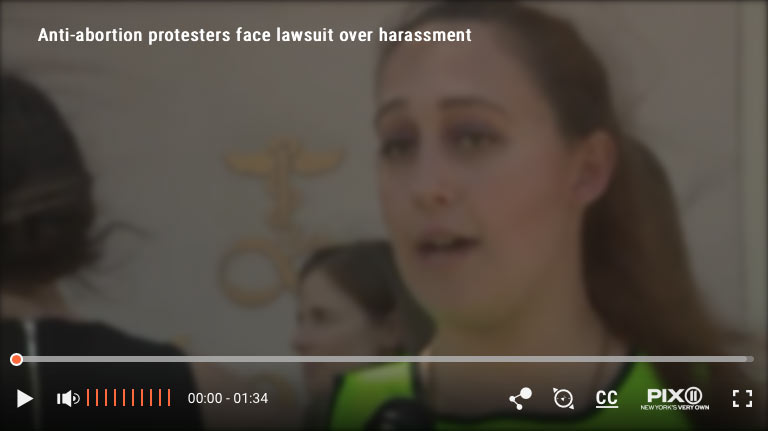 NY attorney general sues anti-abortion groups for harassing patients outside Queens clinic
By Narmeen Choudhury & Aliza Chasan | June 20, 2017 – QUEENS — New York Attorney General Eric Schneiderman filed a lawsuit against anti-abortion groups that harass patients at an abortion clinic, he announced Tuesday.
The demonstrators have blocked patients from entering Choices Medical Center with illegal physical contact and "horrifying" harassment tactics, Schneiderman said. Video shows protestors outside the Jamaica health care facility.
"The law guarantees women the right to control their own bodies and access the reproductive health care they need, without obstruction," Schneiderman said. "We'll do what it takes to protect those rights for women across New York."
Choices founder and CEO Merle Hoffman has faced decades of opposition to abortion. She opened one of the first legal abortion facilities in the country in 1971, two years before Roe V. Wade. Hoffman is frustrated.
"We couldn't do anything until today," she said.
Volunteers, doctors and nurses at the clinic paint a picture of persistent harassment by the protesters. Dozens of protestors harass people at Choices every Saturday.
Schneiderman's suit names 14 different individuals. They do not appear to represent any one organization, but instead appear to be loosely affiliated with
Church of Rock, Helpers of God's Precious Infants, Bright Dawn Ministries and Grace Baptist Church.
His injunction calls for them to stand at least 16 feet away from the women entering the clinic.
"Women are traumatized and shaken by the encounter," Schneiderman said. "They're in need of counseling."
UPDATE:
The counsel for Members of the Church at the Rock issued the following statement:
"Members of the Church at the Rock peacefully counsel women who are considering having an abortion. They conduct themselves reasonably and compassionately, and offer information about abortion alternatives to those willing to listen. This is the exercise of their core First Amendment rights, and is an activity that takes place on the public sidewalk, the traditional venue for expression concerning important ideas and societal issues.
The New York Attorney General's suit seeks to deny our clients their fundamental First Amendment rights and is without factual or legal basis. We will vigorously defend our clients' right to continue to peacefully deliver a pro-life message to abortion-minded women on the public sidewalk, and will seek dismissal of the State of New York's meritless attempt to deny our clients the rights guaranteed them by our Constitution. "